OUR STORY

「自らの手でウイスキーをつくりたい。」
仲間たちと語らう日々がこの大いなる夢の第一歩でした。
STORY 01

蒸溜所設立に至った経緯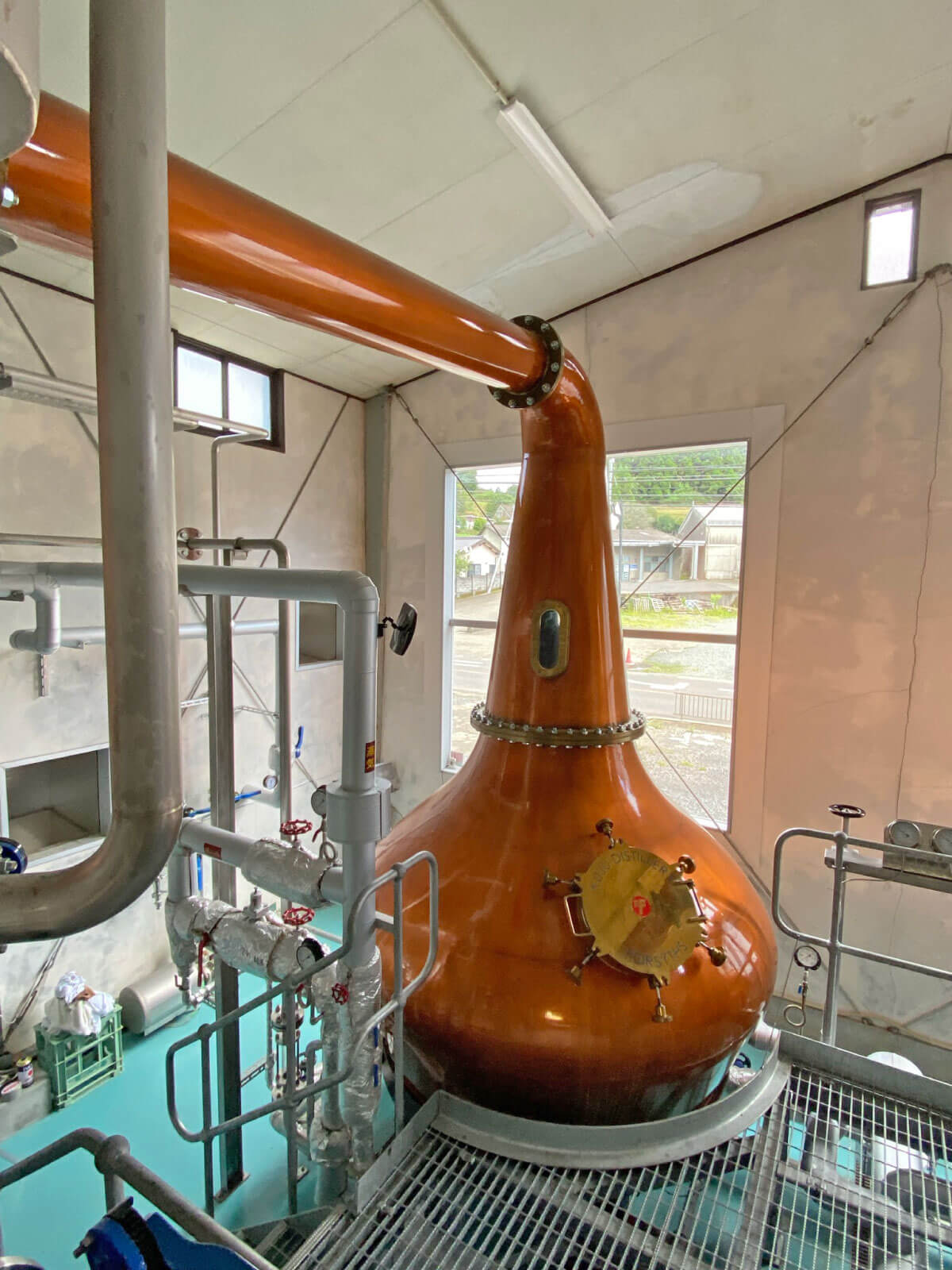 宇戸田にとってウイスキーは不思議なお酒だ。
お酒は弱いはずなのにウイスキーだけは違った。
その魅力に取り憑かれたのは学生時代。
友人の勧めで訪れたBARで飲んだ1杯がきっかけだった。
実家の酒屋に戻り、20年前からウイスキーを取り扱い始めるもウイスキーは冬の時代。
思うように売れない日々が続く。
それでも、沢山の出会いに恵まれ、夢を語らううちに自分でウイスキーを造りたいとの想いを強くする。
そんな時、清酒蔵の跡地を取得。
敷地内には湧き水も湧く。
「ここでならウイスキーが造れるかもしれない!」
本場スコットランドでは、新しい蒸溜所ができると町の人に「これでこの町も安心だ」と喜ばれるという。
自分も生まれ育った「久住」という小さな町の活力になりたい。
それがこの町への恩返しになると信じている。
It all started with a very mysterious experience.
Shoji Utoda, the founder of the distillery, went to a bar with his friends during his college days.
And there he met a bottle.
Exactly it was Scotch single malt whisky and it shot him through.
He didn't drink much originally,Except for whisky after that experience.
After that, he got a job at a liquor store that was a family business and started selling whisky.
Of course he believed that the charm of whisky was acceptable.
However, the reality was quite harsh, in 1998, whisky was a genre that could not be sold at all.
Still, he didn't give up and continued to sell.
Of course, he kept procuring bottles that he thought were good. He continued to grow inventories, but he believed that one day they would all sell.
And as he continued to do so, one day he dreamed of making whisky with his own hands.
As he told many about his dream, many began to reach out to him.
In 2018, acquired the site of a sake brewery that was closed 30 years ago.
There was also spring water on this site.
He was convinced, "I might be able to make the ideal whiskey here!"
In Scotland, the townspeople will be pleased with the new distillery.
He wants to be the vitality of a small town called "Kusumi" where he was born and raised.
He believes it will be a tribute to this town.
STORY 02

時を超えて、

酒造りをふたたび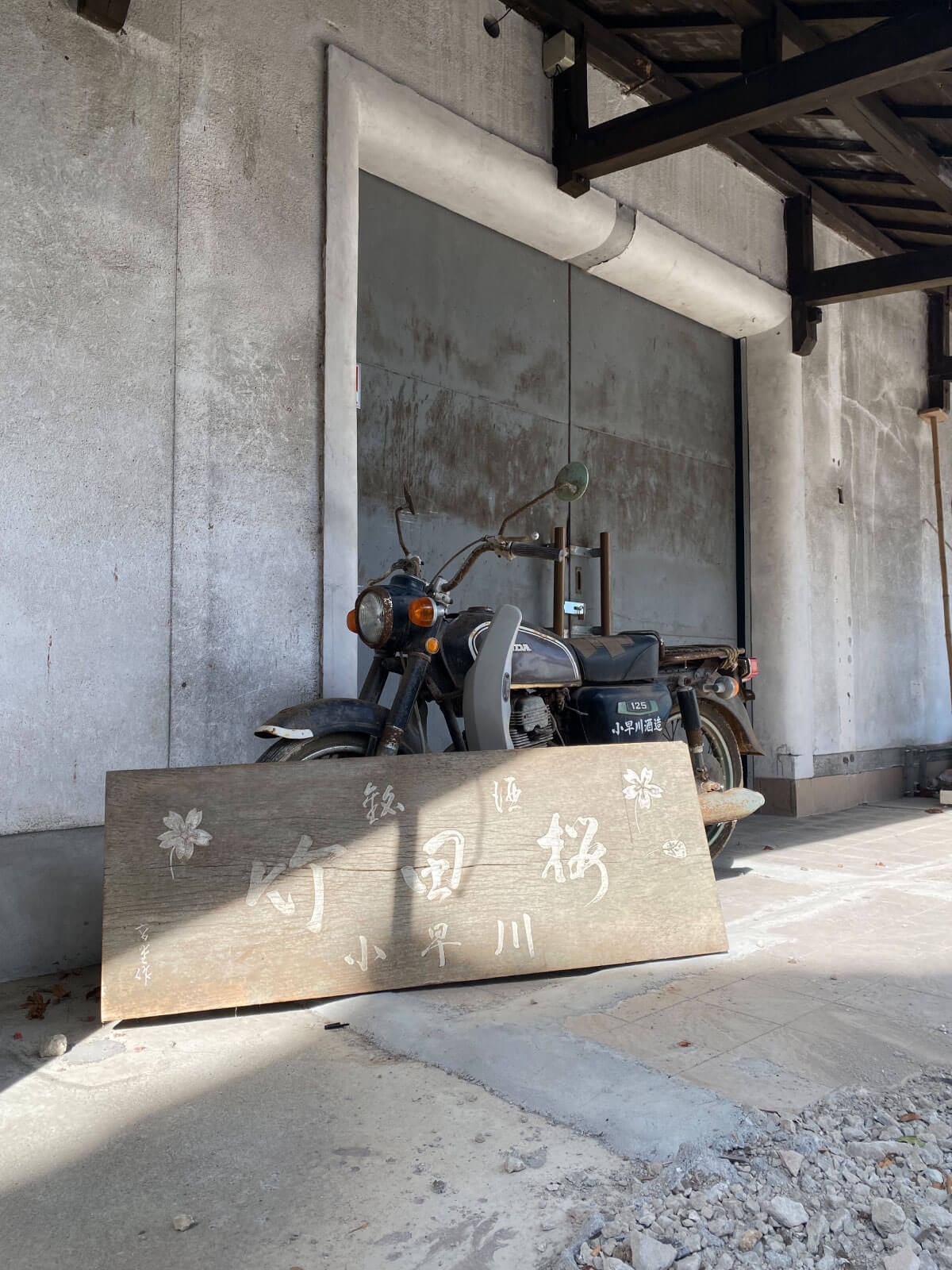 もともとは地元の名士が贅を尽くした歴史ある建屋。
大正時代に建てられたという母屋や離れにはケヤキがふんだんに使われている。
この場所で、平成元年まで操業していた清酒蔵「小早川酒造」。
この蔵元には先々代からお世話になっていたご縁もあった。
時は移り、土地建屋は人手に渡り、荒れ果てていた。
一度は途絶えた酒造り。
ここでウイスキーを造ることは恩返しになる。
からくも熊本地震で被害を受けた建屋もあった中、無傷で耐え抜いた蔵が支えだった。
社長の宇戸田は、毎朝、毎夕、神棚に手を合わす。
祈りと感謝を込めて。
今日も酒造りの神様は久住蒸溜所を見守っている。
Originally a historic building where local celebrities have exhausted their luxury.
Large zelkova lumber is used abundantly in the main building, which was built in the Taisho era, and in the remote areas.
At this place, the sake brewery "Kobayakawa Shuzou" that was in operation until 1989.
This brewery has had transactions since the company was founded.
Time has passed and the land building has been desolate.
Sake brewing that once stopped 30 years ago.
While some of the buildings were damaged by the Kumamoto earthquake, the unscathed and enduring warehouse was a source of support.
Utoda was convinced that he should make whiskey again here.
Utoda prays to a small shrine on the site every morning and evening.
He has sincere prayers and gratitude.
It seems that the shrine is still watching and protecting the Kuju Distillery today.
STORY 03

ゼロからのウイスキー造り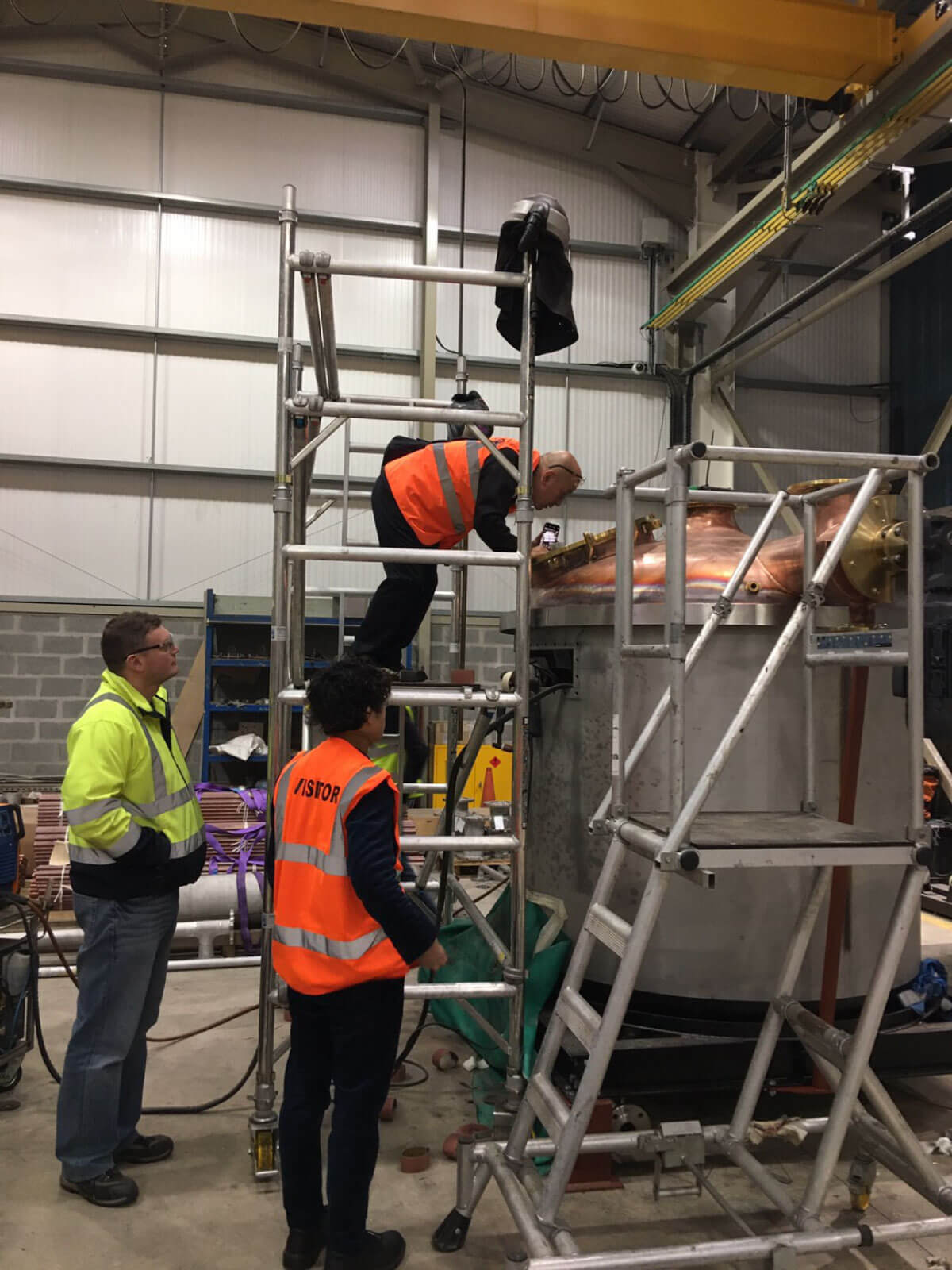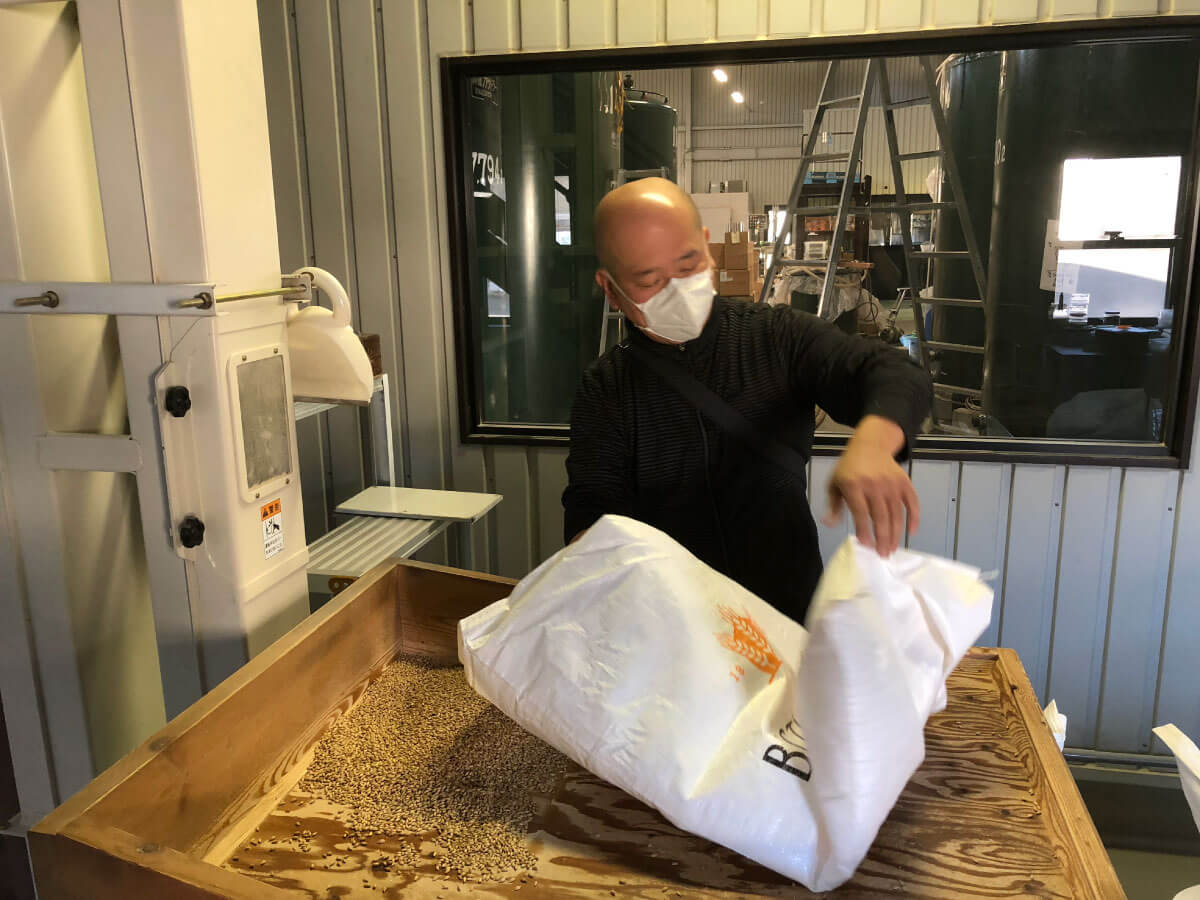 ウイスキーの製造免許取得には製造技術の取得が条件だった。
情熱だけではどうにもならない。
研修を受け入れてくれたのは、秩父蒸溜所だった。
研修は楽しくて仕方がなかった。
自分の手でウイスキーを造っている。
これほど興奮したことはない。
製造責任者の武石は、鹿児島の本坊酒造㈱の津貫蒸溜所でも研修を受けた。
両社で技術研修を受けられた経験は大きな財産だ。
設備はスコットランドのフォーサイス社に発注。
いよいよセットアップが始まろうという2020年春、コロナ禍に見舞われた。
設備を組み上げるはずだったエンジニア達は来日できない。
相談したのは、地元の大きな焼酎メーカーの設備も手掛ける㈲平野商店。
フォーサイス社の担当者から受け取った図面を頼りに、約半年もの間、毎日片道2時間半かけて通い、見事に仕上げてくれた。
こうした人々がゼロからのウイスキー造りを支えてくれている。
In the first place, it was essential to acquire manufacturing technology in order to obtain a whisky manufacturing license. It required proof of manufacturing technology, which cannot be helped by passion alone.
It was the Chichibu Distillery that accepted his training for manufacturing.
The training was fun and unavoidable.
He was delighted to make whisky with his own hands, he has never been so excited.
Takeishi, who is in charge of manufacturing, also received training at the Tsunuki Distillery of Hombo Shuzo Co., Ltd. in Kagoshima.
The experience of receiving technical training at both companies is a great asset.
The equipment was ordered from Forsyth, Scotland.
In the spring of 2020, when the setup was about to begin, the world was hit by a pandemic.
The project was in jeopardy.
Engineers who were supposed to build the equipment cannot come to Japan.
Utoda consulted with Hirano Shoten, which also handles equipment for a large local shochu and sake makers. Fortunately, they had experienced engineers.
Relying on the drawings from the person in charge at Forsyths,
They spent 10 hours every day for half a year to complete the setup.
These people support the whiskey making at the Kuju Distillery.
STORY 04

真摯にウイスキー造りに

向き合う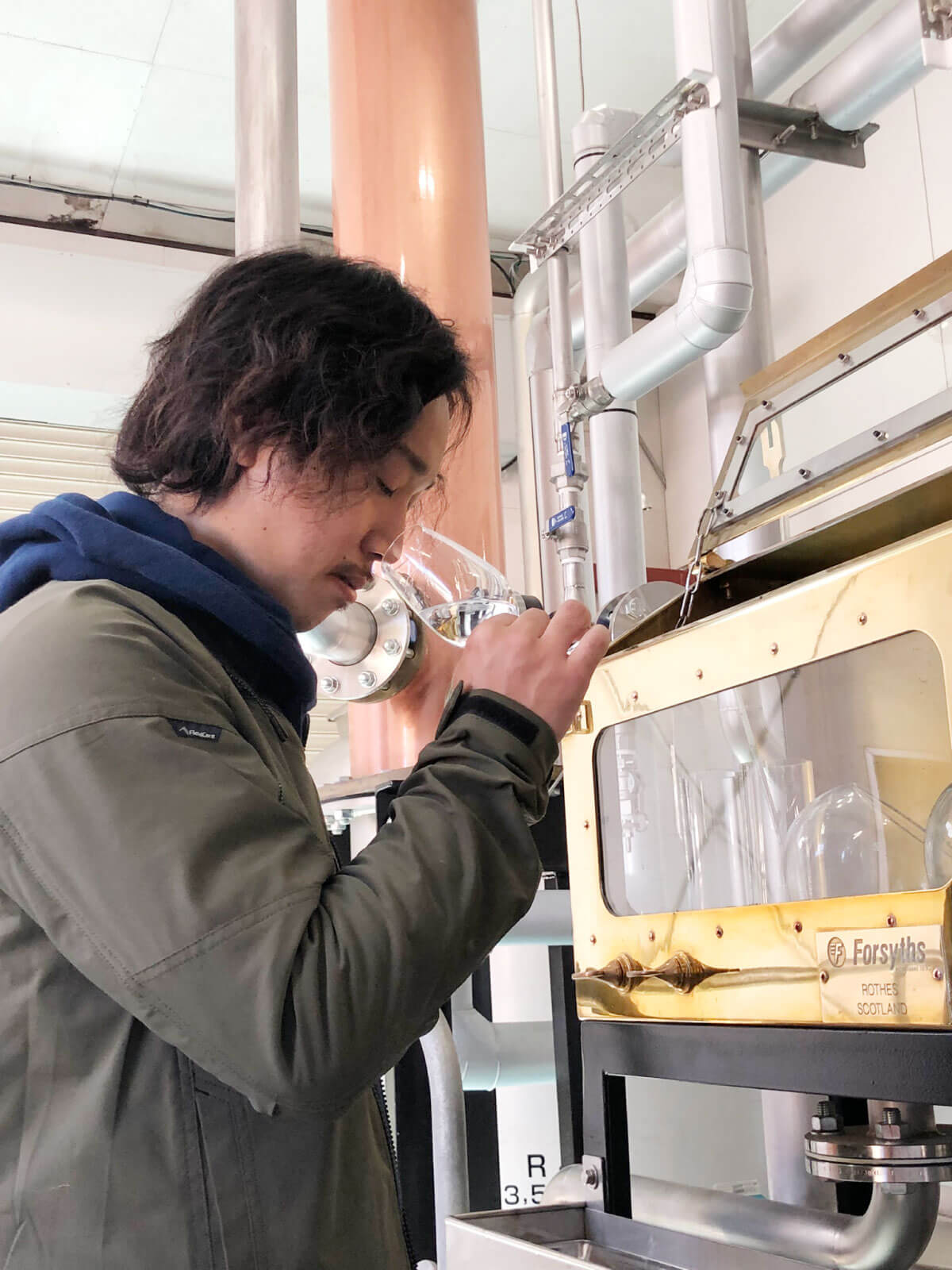 12世紀に世界最古のウイスキー製造がはじまり、18世紀には現在の製法がほぼ確立している。
先人たちの教えを胸に真摯にウイスキー造りに向き合う。
それが久住蒸溜所が一番大切にしていることだ。
ただ、設備や場所が違えば、最適なウイスキー造りは異なる。
日々、トライアンドエラーを繰り返す。
今日よりも明日。明日よりも明後日。
探求心がウイスキー造りの原動力になる。
夢にまで見たウイスキーを造れることに感謝しながら、いつかは支えてくれた人たちに恥ずかしくない一滴を造りたい。
それが恩返しになると信じて今日も地道にウイスキー造りに取り組む。
10年後、100年後もウイスキーを造り続けるために。
It is said that the world's oldest whisky production began in the 12th century, and the current manufacturing method is almost established in the 18th century.
With the lessons of our predecessors in mind, we seriously face whiskey making.
That is what the Kuju Distillery values most.
However, if the equipment and location are different, the optimum whiskey making will be different.
Repeat trial and error every day. It's not magic.
The spirit of inquiry is the driving force for whisky making.
We are all grateful to be able to make the whiskey we dreamed of, but one day we want to make a drop that is not embarrassing to those who have supported us.
Believing that it will be a gratitude, we will continue to work diligently on whiskey making today and 100 years from now.